Reader Commentaries on and Responses to the Web Site Review: The Virtual Museum of Iraq, by Jack Cheng
---
This comment was made by Harrison Eiteljorg, II, and posted on, October 15, 2008.
When I looked at this web site, I was struck by a matter that did not concern the reviewer, Mr. Cheng. It is only noteworthy because, in my view, the issue is important for any web site that aims to illustrate objects. It is simply the absence of a scale in the presentations. It is possible to call up detailed information, including dimensions, but there is no scale -- either a literal one or anything that can be used for comparison -- to show the viewer the size of the object on view. I believe that there must be something to let viewers have a sense of the sizes of those objects they choose to examine. In my view, this is especially important on first seeing any object so that whatever the first impression is, it includes some sense of the size of the object.
Here is a simple example: a photograph of a piece of sculpture, edited to make the background white and cropped to remove any indication of size (just as the objects in the virtual museum were presented). Can you tell how large this is? Before you read further, please try to estimate the size roughly -- life-size, half life-size, twice life-size? I think this is important here -- as in the case of museum objects -- because the overall impression in a physical setting as opposed to this virtual setting very much depends upon the scale of the piece.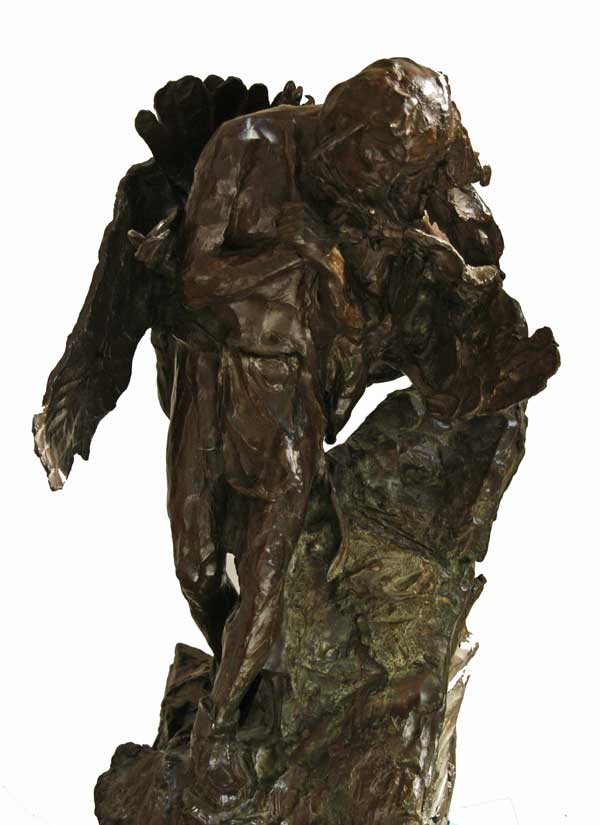 In this second photograph there is a very thin, white line from the knee to the nose of the figure. The distance from one end of the line to the other is 29.5 in. That should help a viewer to understand the sculpture more fully. It could have been larger than life-size, but it is, in fact, significantly smaller than that, about one-third life-size.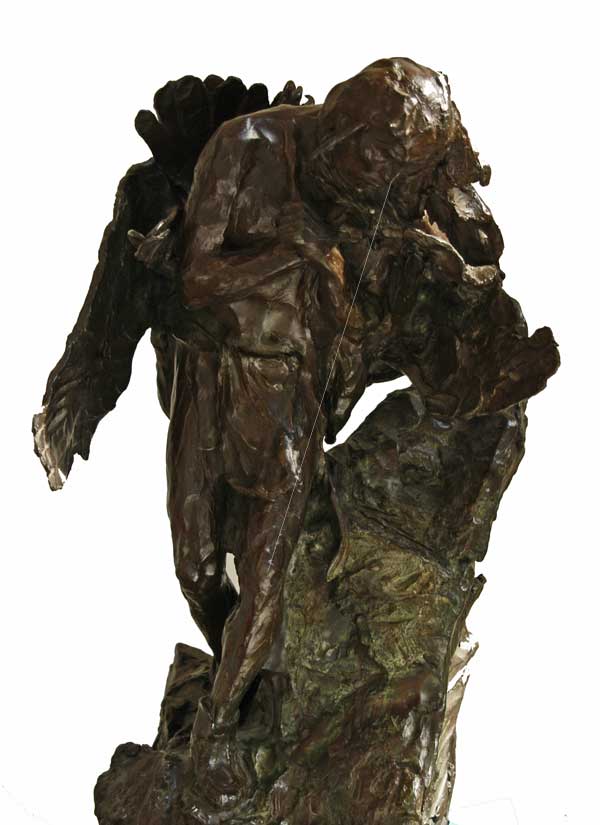 Since most users of a site like the Virtual Museum of Iraq will be students and others not intimately familiar with the objects, it seems only natural to include something to make it possible to do what one does "in the flesh" quite naturally -- to have a sense of the size of the object under study. We naturally understand the sizes of objects we encounter in the world; we should be able to do the same for objects we see on the web. The more important the object, the more important it is to know its size.
---
<!FOOTER>
LINK TO PRIMARY ARTICLE, Web Site Review: The Virtual Museum of Iraq, by Jack Cheng
Table of Contents for all CSA Newsletter issues on the Web