| | | |
| --- | --- | --- |
| Vol. XI, No. 3 | | Winter, 1999 |
---
Letter to the Editor
---
To the Editor: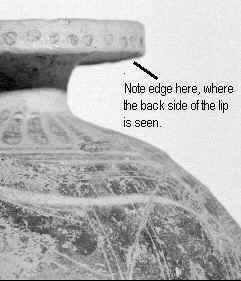 In the Spring, 1998, issue of the CSA Newsletter there was an article on making pottery profile drawings from photographs . Figure 8 (Figure 4 in the web version) showed a photograph of a pot with a profile drawn next to it. It seemed to me that the edge used to make the profile was not really the true profile of the pot. The angle of the photograph created an apparent edge where, in fact, the underside of the lip was showing. The photograph really did not present a view that could automatically generate an accurate profile. This might be achieved if the photograph itself was a precise shot.
- Carol W. Campbell
Bryn Mawr College
---
Author's response:
The writer is certainly correct. The photograph used for the experiment had been taken more than twenty years ago, and a normal focal length lens was used. As a result, the photo was taken from too close to the pot to give a true profile. (A small version of the photograph is reproduced at the right with an indication of the most obvious problem area.) With a telephoto lens-and a consequently greater distance from camera to pot-the photograph can more accurately capture the shape of the profile. Such a photograph would provide a more accurate profile; so the system should then create a good profile drawing. I should have made clear how important the quality of the photograph is to the effectiveness of the system described in the article.
- Harrison Eiteljorg, II
---
For other Newsletter articles concerning pottery profiles and capacity calculations, consult the Subject index.
Table of Contents for the Winter, 1999 issue of the CSA Newsletter (Vol. XI, no. 3)
Table of Contents for all CSA Newsletter issues on the Web
---