Articles in Vol. XXIII, No. 2
Publishing Data in Open Context: Methods and Perspectives
Getting project data onto the web with Penelope.
-- Eric C. Kansa and Sarah Whitcher Kansa
Digital Antiquity and the Digital Archaeological Record (tDAR): Broadening Access and Ensuring Long-Term Preservation for Digital Archaeological Data
A new and ambitious digital archaeology archive.
-- Francis P. McManamon, Keith W. Kintigh, and Adam Brin
§ Readers' comments (as of 10/4/2010)
Website Review: Kommos Excavation, Crete
Combining publication media to achieve better results.
-- Andrea Vianello
The New Acropolis Museum: A Review
Some pluses, some minuses.
-- Harrison Eiteljorg, II
Aggregation for Access vs. Archiving for Preservation
Two treatments for old data.
-- Harrison Eiteljorg, II
Miscellaneous News Items
An irregular feature.
---
To comment on an article, please email
the editor using editor as the user-
name, csanet.org as the domain-name,
and the standard user@domain format.
---
Index of Web site and CD reviews from the Newsletter.
Limited subject index for Newsletter articles.

Direct links for articles concerning:
---
The intertwined problems of data access, preservation, and synthesis are not new to archaeology. In the late 1990s, a series of meetings and panels were sponsored by the Society for American Archaeology, the Society of Professional Archaeologists (now the Register of Professional Archaeologists), and the National Park Service on the general topic of "Renewing Our National Archaeological Program." Improving the management of archaeological information through greater data access and synthesis was one of the major topics covered in this effort (Lipe 1997; McManamon 2000).
In fact, the problem was seen by archaeologists at least as early as the time of the winter meeting of the Archaeological Institute of America - in December, 1992. At that meeting, as reported in "The Archaeological Data Archive Project" in the CSA Newsletter, the need for an archival repository was discussed, and the Archaeological Data Archive Project began as a result. An international meeting in London, held in June of 1994, also treated this issue and was the subject of a CSA Newsletter article, "Computers and Archaeology Seminar in London."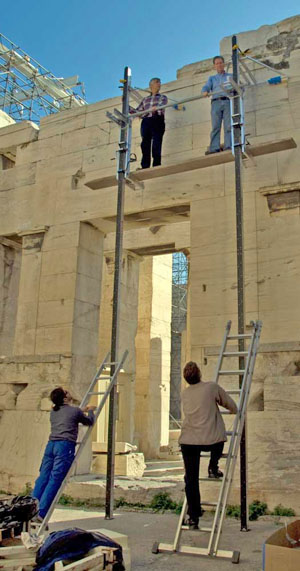 Commentaries for the CSA Newsletter are assembled by the staff in cooperation with contributors. All are published with an assumption that there will be additions from time to time and are maintained, with the latest additions, at the CSA website. While additions are normal, changes other than corrections of typos or similar errors will rarely be made after publication. If any such change is made, it will be made so as to permit both the original text and the change to be determined.
Comments like those here are welcome, and comments, questions, concerns, and author responses will be published in these separate commentary pages regularly.